American Idol Winner Ruben Studdard Releases Sam Cooke's 'A Change is Gonna Come'
RUBEN STUDDARD, THE FAMED AMERICAN IDOL WINNING R&B, POP AND GOSPEL SINGER, RELEASES POWERFUL NEW VERSION OF SAM COOKE'S CLASSIC, 'A CHANGE IS GONNA COME'
Dr. Henry Panion III, the renowned composer, arranger and conductor, produced the piece recorded live at downtown Birmingham's Lyric Theatre
BIRMINGHAM, March 20, 2017 – Ruben Studdard, the famed American Idol-winning R&B, pop and gospel singer, has released a powerful new version of Sam Cooke's classic, 'A Change is Gonna Come' recorded live at downtown Birmingham's Lyric Theatre.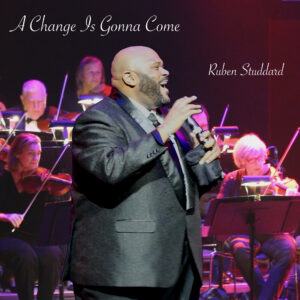 Dr. Henry Panion, III produced and conducted the live orchestra recording during the 2016 Fred L. Shuttlesworth Awards Celebration. Panion is best known for his work with a "who's who" in music, including Stevie Wonder, Kirk Franklin, Chaka Khan, the Winans, Aretha Franklin, Tramaine Hawkins, and American Idol Winners Carrie Underwood and Studdard.
Perfect Timing for Release of  Song
The release of the song comes right on the heels of one of President Barack Obama's final acts before leaving office: Designating Birmingham Alabama's (USA) Civil Rights District as a National Monument.
"Sam Cooke's original became an anthem to the Civil Rights Movement in the 1960s," said Panion, who produces music out of his company, Audiostate 55 Recording Studio and Entertainment Company in Birmingham. "We believe that Ruben's new version is right on time. Everybody could use a little soul and inspiration."
Panion said this new version of 'A Change is Gonna Come' is reminiscent of the original, but he adds "splashes of Harp, B3 Organ, horns, and strings to create an aural palette that would have made Sam Cooke, himself, very proud."
The single is available on all platforms, including iTunes and GooglePlay.
Any media interested in interview Studdard or Panion may contact Neil Foote, Foote Communications, 214.448.3765, neil@neilfoote.com.
###