Kareemah El-Amin's "I Have No Tears for Me" Changing People's Lives
"With every song , listeners are drawn into a place of praise and worship."
— LaKeisha Purifoy
"Kareemah's new EP, "I Have No Tears for Me," is a very moving work. …  The [music] is transporting and lifts the listener on a great musical odyssey through her performance."
— Richard Hensel
 (DALLAS – April 2)  Kareemah El-Amin's new gospel album, "I Have No Tears for Me," is hugely popular, gaining praise and recognition from radio stations, listeners and faith-based audiences around the world.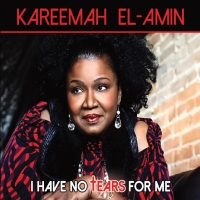 Michigan native Kareemah El-Amin (http://kareemahelamin.com), a former Muslim who converted to Christianity, has said her new EP/CD, "I Have No Tears for Me," and her hit new single, "Walkin' In Heaven", is receiving an amazing response. The EP/CD, launched on March 14, is available to download on iTunes.  The song is currently on heavy rotation on the Synergy1Radio Network, Hot 3:16 and HGS Radio.
"I'm hearing from people every day in emails, tweets and phone calls about how these songs are changing people's lives," said El-Amin, who converted to Christianity three years ago. "We are now on over 30 stations around the world. We are being played in several countries  -Africa, Japan, Norway, Australia, United Kingdom, South Africa, in the states we are on radio stations in, Illinois, Ohio, Mississippi, Michigan, Indiana, South Carolina, Alabama, Texas, New York, Maryland, and Washington D.C."
"We so enjoyed the opening of Kareemah's '[I Have] No Tears for Me!," said Coni Peck on El-Amin's Facebook page (http://facebook.com/kareemahelamin). "Hearing her songs, and listening to her story – well, let's just say that we didn't leave the same way we came in. Kareemah's heart and soul are obvious in her music."
Kashani Aytch wrote: "Kareemah El Amin's refreshing, sultry, spiritual and anointed voice from her new EP … is such a blessing."
Shane Williams wrote:  "Even though I only heard the one song, 'Walking in Heavin'', I Love It! It's a great blend of vocal talent, lyrical content and musical flavor!"
El-Amin's music is the result of a collaboration with Stellar Award-winning composer Matthew Brownie of Minstrel Productions, who is the co-writer of the hit song, "Never Would Have Made It," by Marvin Sapp Billboard songwriter and Christian artist Carmen Calhoun, sings along with her in the upbeat, "Walking In Heaven." Dave Carlock of 27 Sounds, who is a Grammy Award winning engineer, rounds out her all-star team.
The new music offers rich, melodic inspirational messages, drawing off El-Amin's strong faith and background as a singer, songwriter, author, playwright and filmmaker.  Already, her single, "Walkin' in Heaven", has received critical praise from radio stations and gospel music fans around the country.  In the months ahead, she will be traveling around the country sharing her music – and her gospel.