Tom Joyner Foundation and Denny's Partner For Hungry For Education Scholarship Program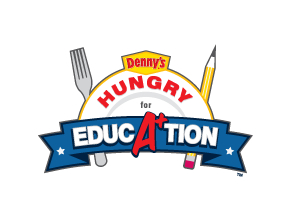 College students eligible to win $25,000 in scholarships for submitting their efforts in helping combat hunger in their communities
DALLAS – Sept. 9, 2015 – The Tom Joyner Foundation and Denny's Corporation (NASDAQ: DENN), franchisor and operator of one of America's largest full-service restaurant chains, today announced the fourth annual Hungry For Education (HFE) scholarship program, created for students attending select Historically Black Colleges and Universities (HBCUs) across the country.
As part of the program, 20 deserving students from designated HBCU's will each receive a $1,250 scholarship from Denny's and the Tom Joyner Foundation. Beginning Sept. 1, full-time students at fully certified HBCU's could apply for the scholarship, which is open for applications through Dec. 1, 2015. Applicants must hold a cumulative grade point average (GPA) of 2.5 to 4.0. and are required to submit a 90-second video describing his or her project to be eligible to receive a summer internship at Denny's.
"We're so glad Denny's is partnering with us again to help students get their college degrees," said Tom Joyner, host of the nationally syndicated Tom Joyner Morning Show and founder/chairman of the Foundation. "This also is a very important cause that allows these students to show off the great work they're doing in their communities."
To apply, students must submit a 250-to500-word essay's describing their most memorable community service or activity to combat hunger. To submit their entries, students may visit TomJoynerFoundation.org or BlackAmericaWeb.com and follow the online application instructions.
Denny's launched its 'Hungry for Education' scholarship program in 2013 as part of the brand's continued commitment to help fight childhood hunger and promote education. To-date, Denny's has awarded more than $250,000 in combined scholarships to deserving elementary, high school and college students across the country.
"We're delighted to continue our journey with the Tom Joyner Foundation and extend our support of the work they do with deserving students across the country," said John Dillon, Denny's chief marketing officer. "Our 'Hungry for Education' scholarship program allows us to celebrate the importance of education, as well as continue to raise awareness of childhood hunger in the United States. We look forward to reviewing all of this year's applications and identifying ways in which we can tackle hunger together in our communities."
The Foundation will be reviewing applications and winners will be announced in December 2015.
About the Tom Joyner Foundation:
The Tom Joyner Foundation (http://tomjoynerfoundation.org) was founded in 1998 as the brainchild of nationally syndicated radio personality Tom Joyner. The mission of the Foundation is to support historically black colleges and universities (HBCUs) with scholarships, endowments and capacity-building enhancements. The Foundation has provided necessary support to every HBCU in its 14-year history to help sustain and preserve the legacies of these valuable institutions. Through fundraising and donor development initiatives, $65 million has been raised to support more than 29,000 students attending HBCUs. Additionally, the Foundation has recommended internships, offered matching grant support, and career development to deserving students. You can follow us on Facebook and Twitter.
About Denny's Corp.
Denny's is one of America's largest full-service family restaurant chains, currently operating 1,700 franchised, licensed and company-owned restaurants across the United States, Canada, Chile, Costa Rica, Curaçao, Dominican Republic, El Salvador, Guam, Honduras, Mexico, Puerto Rico and New Zealand. For further information on Denny's, including news releases, please visit the Denny's website at www.dennys.com, www.dennysdiversity.com or the brand's social channels via Facebook, Twitter, Tumblr, Pinterest, Instagram or YouTube.
###