Shella Gillus to Read, Sign Books at Plantation's Weaving Room
(Dallas – April 16) Shella Gillus, a nationally recognized Dallas author of "The Loom", will be the featured author at the 38th Annual Melrose Arts and Crafts Festival on the historic grounds of the Melrose Plantation in Natchitoches, La. April 21st and 22nd.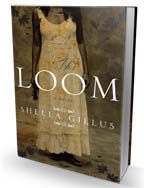 Gillus, whose book received nominated for an "NAACP Image Awards in the "Outstanding Literary Work – Debut Author" category, has scheduled a series of readings at the weaving house on the plantation grounds. The location is a perfect venue for Gillus whose book centers around "the loom room," the place on every plantation where slaves, particularly after years in the tobacco and cotton fields, spent their days weaving and making clothes for their masters' family.
"This is going to be very emotional for me," said Gillus who wrote the book while juggling her family – her husband, Stacey, and two children, Spencer and Staci. "The Loom Room has such a special meaning in America's history, but rarely gets talked about. My book tries to shed light on this part of slavery that played such an important role in so many lives."
In fact, Cammie Henry, owner of the plantation until the mid 1930s, hosted many artists and writers over the years, including folk artist Clementine Hunter whose work includes the famous "Bowl of Zinnias" oil painting and many intricately woven quilts.
The Melrose festival, which attracts more than 1,200 visitors every year, is considered Louisiana's largest arts and crafts fairs, featuring work from artisans around the country.  Originally built in 1796, the plantation has been designated a National Historic Landmark.
Gillus' book, "The Loom" (Guideposts 2011, paperback $14.99) is a suspenseful, historic romance tale of a slave who passes for white and uses the wisdom of the elders to achieve her freedom is gaining national attention because its an engaging, well-written page-turner rich with colorful detail and crisp dialogue. The novel focuses on the story of Lydia, a woman who knew that her life as a slave on a Maryland plantation would end at the loom room. Gillus weaves her own tale, integrating the harsh, revealing truth of this nation's troubled racial past with the broader, universal themes of love and freedom.
Gillus, a member of the Screen Actors Guild who has been two-time guest on the Oprah Winfrey Show, has received a top rating from RT Book Reviews, the popular book industry magazine, which gave the novel an impressive rating of 4.5 stars. The reviewer noted, "Gillus' strong characters may be broken in spirit, but they trust that God will rescue them and show them freedom on the other side."
The former Miss Black Heritage and 1st runner-up Miss Black Arizona was also crowned Miss Congeniality, the Copper Bowl Princess and member of the University of Arizona Homecoming Royalty.
To set up an interview with Ms. Gillus or set up a book signing, contact Neil Foote, Foote Communications, LLC, neil@neilfoote.com, 214.448.3765.  To order bulk copies of the book, The Loom is published by Guideposts (www.guideposts.com) and is available wherever books are sold, including Barnes & Noble: www.barnesandnoble.com/w/loom-shella-gillus/1102606482.
###