As the nation recognizes the second inauguration of President Barack Obama, there's a new line of products celebrating his families' faith and reaffirming the proof of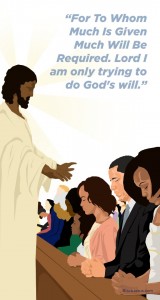 Black Jesus.
"BarackJesus" (http://www.zazzle.com/barackjesus) offers a limited time offer for the purchase of a full line of merchandise to recognize this historic presidency and the president's Christian faith. Many conservatives have questioned the president's religious beliefs since he announced his candidacy for the Democratic nomination for president in 2007.
The online store, accessible 24/7 and accepts all credit cards, offers a wide variety of products available, including posters, mugs, T-shirts, cell phone covers,

stationery, pillows, buttons, notebooks, clocks, and coasters. The merchandise features an iconic image of Jesus blessing the First Family: the president, First Lady and his two children – Malia and Sasha – sitting in the front pew of a church. Each product also offers the phrase, "For to Whom Much is Given, Much Will Be Required. Lord I Am Only Trying to Do God's Will."
The merchandise is an extension of an ongoing dialogue that is featured on the popular website BlackJesus.com (http://blackjesus.com). The website points out that there are 950,000 monthly searches for variations of the term "black jesus", confirming the notion that people around the world are trying to find the truth. The website offers articles, videos, commentary and links offering proof of a black Jesus. The website welcomes "intelligent observations and opinions from all races. "The Internet is the modern day drum that can send out unfiltered messages globally, but you must be willing and ready to hear," the website states.  Join the conversation on Facebook at: http://facebook.com/blackjesus
Experts say solution addresses President Obama's Call for Innovation
A proposed new identity protection software development company could lead to creating nearly 200,000 permanent new jobs in the U.S. at a time when President Obama is calling for more innovation and job creation.
Tom Hill, who ran the EDS Fellows and the Distinguished Engineering Program, says B-Security Systems' concept "potentially solves an enormous identity management problem facing the United States government." He said the company's solution could create anywhere from 125,000 to 200,000. In an evaluation of the product, Hill said, "The proposed B-Systems solution has identified several key areas of concern for secure identity management that have not been adequately covered by either government or commercial initiatives." Most of these jobs also would require employees to be bonded and U.S. citizens, according to B-Security Systems' business plan.
Velma Hart, who recently became a partner of B-Security Systems and its chief financial officer, said the company has a product that's sorely needed and will help out the nation's economy. This week, the president released his $3.7 trillion federal budget and recently met with the CEOs of the nation's top technology companies, seeking their ideas on how to fuel innovation and job creation.
"Look, it's very simple," said Hart, former CFO of AMVETS, a veteran service organization who made national headlines last year when she questioned President Obama on the ineffectiveness of his economic policies. "B-Systems offers a tangible innovative technology solution that has a huge potential to create jobs. We're looking for investors, the federal government – the President himself – to take notice. We're committed to making sure this business makes a difference, but we need folks to step up."
The B-System Privacy Protection Method (http://bsecuritysystems.com), in part, offers a more effective and secure means to issue and protect the national use of the social security number. The company has a patent pending for a sophisticated software system idea that will make it more difficult for thieves to illegally use social security numbers and other forms of personal identifying information. The software is conceived to provide the federal government and commercial outlets an innovative method that will effectively deter and dramatically prevent ID fraud and save hundreds of billions of dollars annually in monetary and other forms of loss that is associated with being a victim of ID Fraud.
To contact Ms. Hart or learn more about B-Security Systems LLC, contact Neil Foote, neil@neilfoote.com, 214.448.3765.