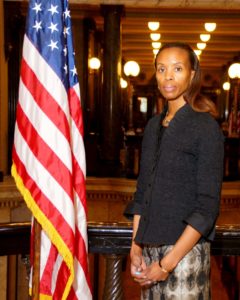 Statement from Mississippi Rep. Angela Cockerham (D-96) Denouncing 'Lynching' Comments by Rep. Karl Oliver
"I am deeply troubled by the remarks made my fellow colleague, Rep. Karl Oliver, and those House colleagues who liked such language on Rep. Oliver's Facebook page.
As one who works across racial and party lines, it is my prayer that the healing process will continue in our state and that my House and Senate colleagues and I will work to build one Mississippi. #OneMississippi"
SHORT BIO
Angela Cockerham is an accomplished lawyer, state legislator and educator. The Mississippi state representative, first elected in 2005, is one of 122 state representatives, representing more than 24,000 residents. She grew up in Amite County, Mississippi and has become an expert in energy and tax policy as well as leader in sentencing reform.
Cockerham, who lives in Magnolia, represents House District 96th District in Mississippi, which includes Wilkinson, Pike, Amite, and Adams counties, right along the Louisiana state line.  She's chairman of the House Energy Committee and vice-chairman of the Management Committee. Cockerham also serves several other House Committees, including the powerful Legislative Budget Committee (LBO), Apportionment and Elections, Appropriations and is subcommittee chair of Corrections, and Wildlife Fisheries and Park.
For more information, contact Neil Foote, neil@neilfoote.com, 214.448.3765