Dr. Leon is a Washington, D.C. political scientist whose primary areas of expertise are American government, black politics, and public policy. He's a frequent guest and fill-in of TV One's NewsNow with Roland Martin.
For 11 years, he was a lecturer/teaching associate in the Political Science Department at Howard University in Washington, D.C. Currently, Dr. Leon is a nationally broadcast radio talk show host on SiriusXM Satellite radio channel 126, nationally syndicated columnist, and regular political commentator on national and international news programs.
Dr. Leon earned a B.S. degree in Political Science from Hampton Institute, a Masters in Public Administration (MPA) from Howard University and a Ph.D. in Political Science from Howard University.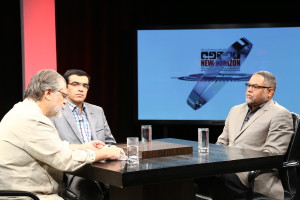 Some additional background:
In the fall of 2015, Dr. Leon lectured during the "New Horizon: The International Conference of Independent Thinkers" in Tehran, Iran.
The focus of the conference was "On the Brink: Racial Human Rights Abuse in the US". 
The conference included more than 30 journalists, writers and academics from around the world who presented papers and articulated issues of world geopolitics.
While in Tehran, he was invited to be a guest lecturer at the University of Tehran, Sharif University,
University of Esfahan and the Islamic Azad University in Sari.  He talked to students, academics and intellectuals and discussed the US/Iran Nuclear deal, Islamic stereotypes in US media, police brutality in the African-American community, President Obama and his Middle East policy and domestic policy.
Participated in a two-hour meeting with former Iranian President Mahmood Ahmadinejad as part of a small delegation.
Participated in a number of television programs in Tehran and Sari such as Press TV and New Horizon.
CONTACT: me Neil Foote, neil@neilfoote.com, 214.448.3765, or Dr. Leon directly – wjl3us@gmail.com or Twitter: @DrWilmerLeonRx