Juliann Johnson, a world-class volleyball player, shares inspirational lyrics in new single to send a message that anyone can accomplish their dreams
(DALLAS – May 11, 2017) On the volleyball court, JuliannJohnson is known as a fierce competitor, using her height, strength and speed to outplay her opponents.  Johnson is using that same energy in the music studio, releasing her first single, "Light Up the Sky," now available on all music streaming and download services, including iTunes, Google Play, and Amazon.
The 6-foot, 2-inch-California native, now Texas transplant says she's hoping this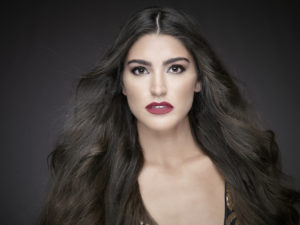 new single sends a message that you can accomplish your dreams. She draws off her own personal experiences, especially over a year ago, when due to a severe knee injury, she had a doctor tell her she would never play volleyball again.  Johnson, 27, says she had plenty of time to do some soul-searching, realizing her love of her sport – and of singing.
"This song is all about a feel-good, positive vibe," says Johnson, who is hoping to play volleyball in the 2020 Summer Olympics in Tokyo. "I'm writing songs where I want every word to count. I want people to feel that for every dream you have, there's a reason, a purpose. I want anyone, particularly young people, listening to my music to feel like they can do anything, be anything and live beyond the boxes we tend to find ourselves stuck in."
Johnson, a graduate of the University of Texas at Austin, has had an amazing journey. Her father is Chuck Faucette, the former NFL pro-turned high school and college football coach, and her mom, Carolyn Erickson, a nationally known fitness guru. Johnson has travelled the world playing volleyball for teams in Italy, France and most recently, China. She devoted much of her childhood to gymnastics, but she grew six inches in eighth grade. That's when she jumped into volleyball – after initially refusing to go to her first camp. "I really didn't want to go," she recalls. "I cried and cried. Then afterwards, I realized how much I loved it."
Johnson became a nationally-recognized college player, then after graduation headed off to play professionally in Italy, France and China.  While playing in Italy during her second professional season, her love of music kicked into a new gear. As a child, Johnson had played the violin, and sang in choirs. It wasn't until an Italian fan noticed some of Johnson's singing performances on YouTube. That's when Johnson's fans couldn't resist: They asked her to sing Alicia Key's "Girl on Fire" at a halftime show. Her teammates and the Italian fans fell in love with her. A local group, Italian Job, and its music producer pulled her into the studio, and that laid the groundwork for this new single, and the forthcoming album, Complete.
Any media interested in interviewing Juliann Johnson, please contact Neil Foote, Foote Communications, neil@neilfoote.com, 214.448.3765.  For sponsors or other business opportunities, please contact Sandra Smith, sandra@resident-alien.us .