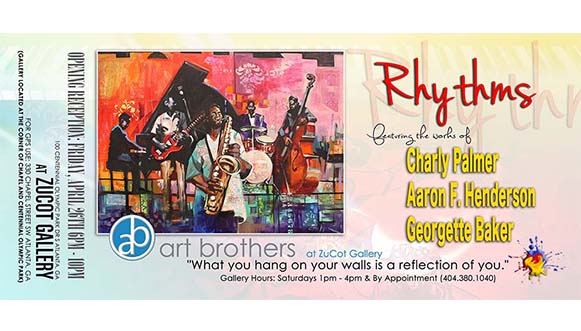 The Art Brothers at ZuCot Gallery Preparing for "Rhythms" Exhibit, Featuring the Works of Acclaimed Atlanta Artists
(ATLANTA – April 22) The ZuCot Gallery is set to open a new exhibit, featuring the works of the 2013 Atlanta Jazz Festival Artist Charly Palmer along with artists Aaron F. Henderson and Georgette Baker.
The "Rhythms" exhibition will kick off with a reception from 6:00 p.m. to 10:00 p.m. Friday, April 26 at the gallery located at 100 Centennial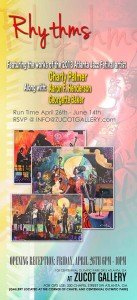 Olympic Park Drive S, Atlanta, GA 30313  (for GPS use 330 Chapel Street). You can RSVP for the event by calling 404.380.1040 or emailing info@zucotgallery.com.
The featured artists include:
Charly Palmer, a native of Fayette, Ala. who grew up in Milwaukee, specializes in acrylic mixed media works.  His pieces have been displayed all around the country and can be found in the private and public collections that include Atlanta Life Insurance, McDonald's Corporation, Miller Brewing Company, the Coca Cola Company and Vanderbilt University. He currently has works on display at the Schomburg Center in Harlem New York.
Georgette Baker, who operates an independent studio in Atlanta, specializes in mixed-media collage and is represented by galleries around the country.  One of her works was most recently acquired by the Bessie Smith Cultural Center & Museum in TN.
Aaron F. Henderson, who spent much of his career as an engineer, followed his passion as an artist to produce work that is on exhibit at his family's gallery and around the country.  He specializes in gouache on paper and oils on canvas. Selected pieces are currently on display at the Gibbes Museum of Art in Charleston, S.C. as part of Vibrant Vision – The Jonathan Green & Richard Weedman Collection.  He is currently preparing for an exhibition at the Hampton University Museum in Hampton, Va.
The Art Brothers at ZuCot Gallery – Brothers Onaje and Omari Henderson & business partner Troy Taylor- are the masterminds behind the exhibit and the gallery. Located in downtown Atlanta, the gallery is the result of many long hours of work, including the Henderson brothers who had carved out a name for themselves as Premier Art, founded by their father, Aaron, 20 years ago.
The Art Brothers at ZuCot Gallery are seeking out novice and seasoned collectors who want to begin or expand their collection through educational programs, such as an Art Tasting ™, Art Leasing, and Virtual Viewing.  The Art Brothers also already are working with such companies as Coca-Cola, The Home Depot and Kimberly Clark. They are working aggressively to expand the number of companies its working with to help them expand their art collections, and help them reach their corporate diversity goals by sharing African American art with their employees.
The gallery is open every Saturday from 1:00 p.m. to 4:00 p.m. or by appointment, calling 404.380.1040.  To interview the artists or the Art Brothers, contact Neil Foote, Foote Communications, LLC, neil@neilfoote.com, 214.448.3765.