Nationally acclaimed Atlanta artist Aaron Henderson has unveiled a poignant painting to recognize the 50th anniversary of the bombing at the Sixteenth Street Baptist Church in Birmingham.
Henderson's painting, "The Corner – Birmingham, 1963", draws off his perso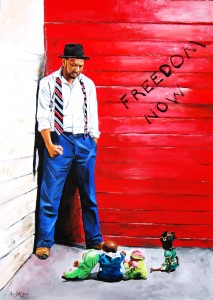 nal life as a child growing up in Birmingham where he was classmates of two of the four girls – Cynthia Wesley and Carole Robinson – murdered in the bombing.  Henderson said it was men like his father, Riley, an ex-Marine who tried to protect him and other children from the racial prejudice that was so prevalent.
The painting will be part of an exhibit, Birmingham 2013: The Movement that Changed the World, that will run from Nov. 5 to December 30th at the Birmingham Central Library, 2100 Park Place, Birmingham, Ala.
"The murder of the four little girls heightened the rage in men like my father who had fought America's wars only to return home the fight America's apartheid," writes Henderson, a retired engineer who has become one of the nation's most profound narrative artists whose work has been on display in exhibits around the world.  "These men found themselves in a corner unable to protect their families from the unrelenting racism and the threat of death from these terrorists who were supported by the white power structure of Birmingham."
The painting depicts a bearded and moustached African-American man wearing a fedora backed into a corner against one red, one white wall punctuated with the words "Freedom Now".  With a clenched fist, furled brow and forehead and an open tie draped around his neck, he stares at four dolls, representing the children he is trying to protect.
Henderson has distinguished himself with his Spiritual Series, which is a series of more than 50 pieces over the past 5 years based on his student work-study job as the audio recorder for the world-renowned choir of Tuskegee University in Tuskegee, Ala.  He is always working on a series, which encompass a range of images, including pieces dedicated to the legend of Ganga Zumbi, Afrolantica, which provides a view into his interpretation of paradise. Another series, Music, includes his depiction of the Jazz influence on our culture.  The Deacons for Defense and Justice series, highlights the little-known bands of armed self-defense African-American males who protected their communities against violence from the Ku Klux Klan during the Civil Rights Movement.\
Henderson's sons, Onaje and Omari, run Zucot Gallery, one of Atlanta's most successful African-American owned galleries, featuring the works of established and many up and coming artists.  Henderson and his sons travel the country hosting their trademarked "Art Tastings" for corporations such as Coca-Cola, The Home Depot, organizations such as the NAACP and the Executive Leadership Council and private art collectors.  Their seminar help educate art enthusiasts and new buyers on the history of art and how to start or expand their art collections.
To learn more, you can contact Neil Foote, Foote Communications, neil@neilfoote.com, 214.448.3765 or visit the Zucot Gallery, 100 Centennial Olympic Park Drive S, Atlanta, GA 30313  (for GPS use 330 Chapel Street). You can contact the gallery at 404.380.1040 or emailing info@zucotgallery.com.
ABOUT PREMIER ART
Premier Art, based in Atlanta, GA, was formed in 1993 by artist Aaron F. Henderson with the express purpose of informing, educating, and inspiring future collectors of original African-American artwork.  The company, now managed and operated by Mr. Henderson's sons, Onaje and Omari, specializes in comprehensive art consulting services dedicated to supporting internationally acclaimed seasoned African-American artists and the promotion of the visual arts.  The company has been featured in various media formats including HGTV's Ground Breakers and Loft Life Magazine and works by the artists can be seen in galleries and in the permanent collections of museums around the country.  Premier Art is comprised of a diverse group of professionals whose experience boasts more than 75 years of combined experience.  For additional information or to book an 'Art Tasting'™ by Premier Art, contact us at the number above or visit www.premierart.net