Partnership Will Use Educational Seminars, Innovative Programs
(ATLANTA ) Premier Art, Inc. and ZuCot Gallery are partnering to promote original artwork by today's African American artists, representing a major move in Atlanta's art community, company officials announced.
The partnership brings together Troy Taylor, owner of ZuCot Gallery, located in downtown Atlanta, and brothers, Onaje and Omari Henderson who have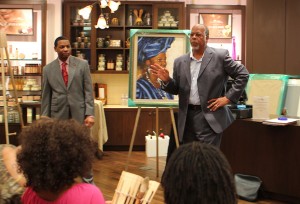 carved out a name for themselves at Premier Art Gallery, founded by their father, Aaron, 20 years ago.
"This is a big move for us," said Onaje, who has a mechanical engineering background, but grew up surrounded by art. "We know there are a great number of talented African American artists in Atlanta – and around the country – who have produced powerful artwork that needs more exposure. We know there are new and experience collectors – individuals and companies – who are looking for new artwork. This partnership is going to help us jumpstart that opportunity."
H&T Art Partners are seeking out novice and seasoned collectors who want to begin or expand their collection through educational programs, such as an Art Tasting ™, Art Leasing, and Virtual Viewing.  The company also is going to build off its base to work with companies around the country to build their art colleges, and help them reach some of their corporate goals by sharing African American art with their employees.
To date, the Henderson brothers already have worked with such Fortune 500 clients as The Coca-Cola Company, The Home Depot, The Tom Joyner Foundation, and Kimberly Clark.